Welcome
This is where we talk about things that are hard to talk about.
Death is hard to think about. It's hard to talk about. Death with Dignity–Albany exists to make it easier for people to talk about end of life issues, to learn more about  their options, and to make plans to ensure that their wishes are honored when the time comes.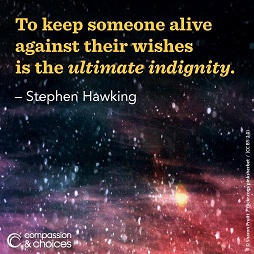 Death with Dignity-Albany is a local, grassroots group whose mission is to provide a forum for education, discussion and advocacy related to death with dignity and end-of-life issues. We invite you to visit our website often, and to join us in person at our meetings in Albany, NY.
We are an independent, volunteer-run group that supports the work of organizations such as Compassion and Choices, End of Life Choices New York and Death with Dignity National Center, but we are not affiliated with any particular organization.
Meetings are free and open to the public. They typically feature guest speakers with expertise in legal, ethical, social and legislative aspects of end of life matters. Meetings also give participants the opportunity to meet others who share their own convictions, thoughts and concerns.