This is where we talk about things that are hard to talk about.
Death is hard to think about. It's hard to talk about. Death with Dignity–Albany exists to make it easier for people to talk about end of life issues, to learn more about  their options, and to make plans to ensure that their wishes are honored when the time comes.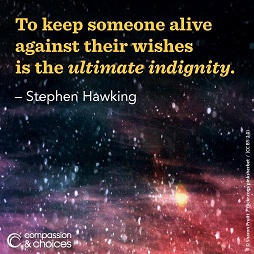 Death with Dignity-Albany is a local, grassroots group whose mission is to provide a forum for education, discussion and advocacy related to death with dignity and end-of-life issues. We invite you to visit our website often, and to join us in person at our meetings in Albany, NY.
We are an independent, volunteer-run group that supports the work of organizations such as Compassion and Choices, End of Life Choices New York and Death with Dignity National Center, but we are not affiliated with any particular organization.
Meetings are free and open to the public. They typically feature guest speakers with expertise in legal, ethical, social and legislative aspects of end of life matters. Meetings also give participants the opportunity to meet others who share their own convictions, thoughts and concerns.
Frequently Asked Questions
Q. What is death with dignity? What does it mean?
A. The phrase death with dignity has come to refer to a peaceful and humane death. It is also referred to as aid in dying. The term is often linked with legislation that provides for medical aid in dying, but it can also refer to the belief that one's end-of-life wishes should be honored and there should be no unwanted treatments.
Q. Why are there so many different groups that deal with death with dignity? Why not one big group?
A. This is still a relatively new field, and various groups have evolved over the same period of time. Compassion & Choices is clearly the largest national organization and has well-funded and well-developed programs including advocacy, lobbying, and providing a wealth of information and tools to the public. They are very skilled at getting media visibility for the issues. Death with Dignity National Center is also a large national group that provides similar resources. There are other groups, such as The Conversation Project, which focuses on helping people clarify and then communicate their end-of-life wishes to their loved ones. And here in NY there is also End of Life Choices New York, which focuses on legal and legislative approaches to death with dignity. All of these organizations do good work and have slightly different niches. And the more activity there is, the more momentum is generated.
Q. How is medical aid in dying different from hospice or palliative care?
A. Aid in dying provides an additional medical option to reduce suffering and give comfort at the end of life, particularly if pain cannot be controlled through medication. While most hospice patients die in hospitals or other facilities, patients who use medical aid in dying almost always die at home.
Q. How can I learn more and get involved in making medical aid in dying legal in New York?
A. Become an advocate! There are many ways that you can have an impact.
Talk to your friends and family and tell them why this is so important.
Educate yourself about the issues.
Join Death with Dignity–Albany to meet others who support this legislation and join in our advocacy efforts. To receive notices of educational events and opportunities for advocacy, click on the Subscribe to Newsletter button at the bottom of this page.