Join us!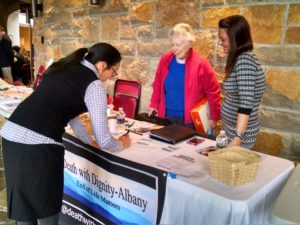 Join our mailing list by clicking on the Subscribe to Newsletter button at the bottom of this page. To protect your privacy, we do not share our email list with any other organization or individuals.
Join us at meetings, which are announced on our web site and in emails to our mailing list. Meetings are free and open to the public.
Join us in activities such as lobbying legislators for death with dignity legislation. If you are on our email list you will receive notices of opportunities for activism.
Help us grow and thrive by recruiting others, and by helping with volunteer tasks to support our cause and our organization.
Things You Can Do
The updated Medical Aid in Dying Act (A.2383/S.3151) was introduced in the Assembly and Senate in January 2017, following passage of the previous version by the Assembly Health Committee in May 2016. Although no action was taken in the Spring 2017 session, individual and organizational support continue to grow. You can take action now: